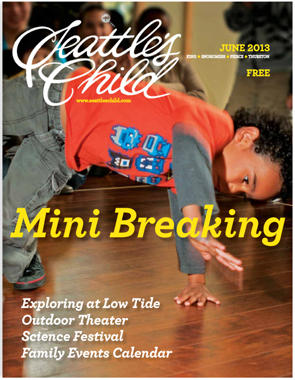 Do you have a young child who loves to move? Bring them to Mini BREAKS, the ONLY breakin' ("break dance") creative movement class of its kind for young children ages 2-6 in the Pacific Northwest! 
Classes take place in Seattle, Washington and are taught by the b-girl Anna Banana Freeze - former preschool teacher and current member of the world-famous, award winning dance crew, Massive Monkees!
In this unique class, young students will have fun while they exercise, express themselves, think creatively, build self-esteem, practice respect, and make new friends!
Outside of a dance studio, hip-hop culture (including breakin') is not taught through choreography or 8-counts but more intuitively through interactive demonstration. Mini BREAKS focuses on encouraging young children to be creative and courageous – to come up with their own ideas and be able to express themselves by sharing those ideas with others. All children are artists – Mini BREAKS helps them remain artists as they grow up!
Check out the video segment of KCTS-9′s (PBS) show PIE featuring Mini BREAKS below:
Do you want to stay up to date with news about Mini BREAKS classes and special events? Then JOIN our EMAIL LIST! To show our appreciation for you joining, we will send you a FREE Massive Monkees temporary tattoo!