Update: This event was a success! Thank you to everyone who showed up and/or spread the word! There will be a crowdfunding campaign launching soon to continue raising money for new dance floors at The Beacon Studio – stay tuned for more information <3
Please bring yourself and your kiddos to see Anna Banana Freeze on a Friday evening for some amazing dancing, music and to help raise money for The Beacon Studio to get much-needed new dance floors! More info below:
Since its opening, The Beacon Studio has not only been a homebase to the Massive Monkees crew but also an essential safe all-ages space for learning, building, creativity and community in Seattle. We want to celebrate this 5-year milestone, starting with the following event: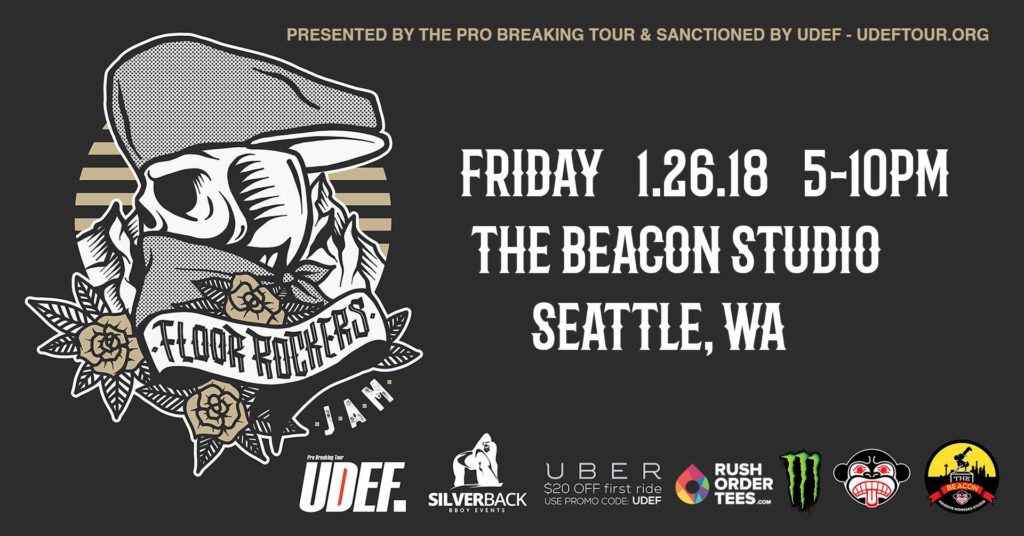 FLOOR ROCKERS JAM
♛ Presented by The Pro Breaking Tour & Sanctioned by UDEF♛
Pro Breaking Tour – UDEFtour.org
This event is called "Floor Rockers" because we need our community's help to raise funds to replace The Beacon's deteriorating floors. Having safe floors is one of the most important parts of a dance space and we need $25,000 to pay for a new dance floor. What better way to start fundraising than with a party?
DATE: Friday, January 26th, 2018, 5-10PM (Battles start at 6:30PM)
LOCATION: The Beacon Studio, 664 S. King St., Seattle, WA 98104
COST: $10 (Free for children 11 years-old and younger)
Floor Rockers Jam will include:
3 vs 3 battle for a Top 8 spot at Massive Monkees Day Anniversary 2018 and cash prizes!
– $1,200 for first place (3 checks of $400)
– $600 for second place (3 checks of $200)
– $300 for semi-final losers (6 checks of $50)
Live DJs (DJ Drop Bangerz + DJ Zac Hendrix)
Open cyphers (including a kids only cypher!)
IF YOU'RE BATTLING – sign up at:
https://www.udeftour.org/udef_event/floor-rockers-jam-2018-signup/
For the general Facebook event page, go here:
Bring the family, bring your friends and SUPPORT local, arts-based small business in your community! <3