Massive Monkees Studio: The Beacon will be hosting its 2015 Showcase at Broadway Performance Hall in Seattle this year, and you and your child(-ren) are invited to watch and/or possibly perform!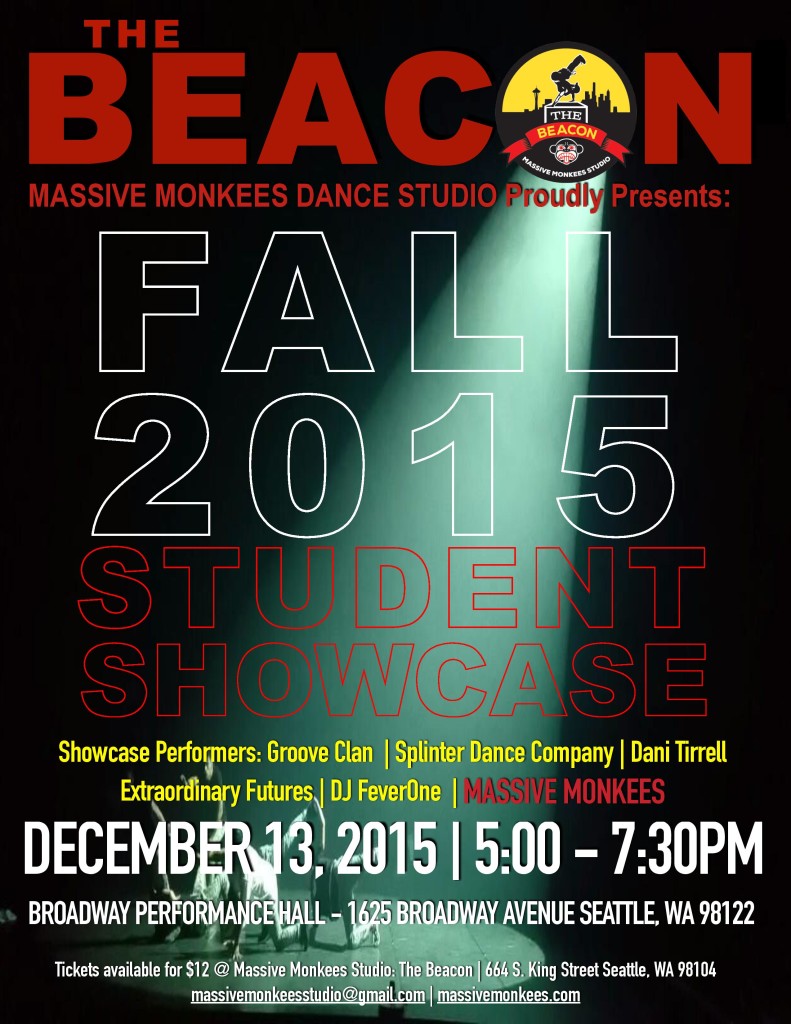 The event will happen December 13th 2015 5:00-7:30PM and will highlight the talent of our outstanding students and the work of our team of amazing teaching artists.
At the event, Mini BREAKS will be having a special cypher of our 2-6 year-olds to show off their skills, creativity and courage! We still have openings for 10 dancers – please email anna@minibreaksdance.com if you think your mini b-girl or b-boy would like to participate or have any questions!
Special guest performances will include Groove Clan, Extraordinary Futures Youth Program, MASSIVE MONKEES and of course the youth and adult students who have been preparing all quarter for the big day!
Tickets are on sale now for $12 online (https://squareup.com/market/massive-monkees-studio/fall-showcase-tickets) and at The Beacon on Monday – Friday: 6-9PM, Tuesday before/after the 10:30AM Mini BREAKS class, and Saturday: 11:30AM-1:30PM. Tickets will also be available for sale at the door on the day of the event.
Performers have free admission, everyone else attending the event needs a purchased ticket to attend. Doors open at 4:30PM.

The venue address is: Broadway Performance Hall, 1625 Broadway Ave., Seattle WA 98122. There is a parking garage on the corner of Harvard Ave. and Pike St.
Invite your family and friends to see you and/or your child dance on stage! We hope to see you at the Broadway Performance Hall on the 13th! 😀